I ordered gold Hi-Tek powder but they sent me puke green instead.
Oh well, I'm more interested in performance than in cosmetics.
You're supposed to mix the powder with acetone. Naturally I'm out of acetone, so I tried alcohol instead. I think the alcohol worked OK but nonetheless will pick up some acetone next time I go to town.
The first coat was baked at 385F. The second coat was also baked at 385F for 10 minutes as per the instructions, but then I raised the oven temperature to 470F for 30 minutes, and quenched the bullets in water, so now they're ~25 BHN. It remains to be seen if coated bullets benefit from hardening but I suspect they do.
The good news is that the puke green was actually more of an olive green after baking at 385F. Even better, the olive green turned to a bronze color after baking at 470F. I'm good with bronze.
These are some 35 caliber tumblelube bullets that I had left over from my tumblelube shootout.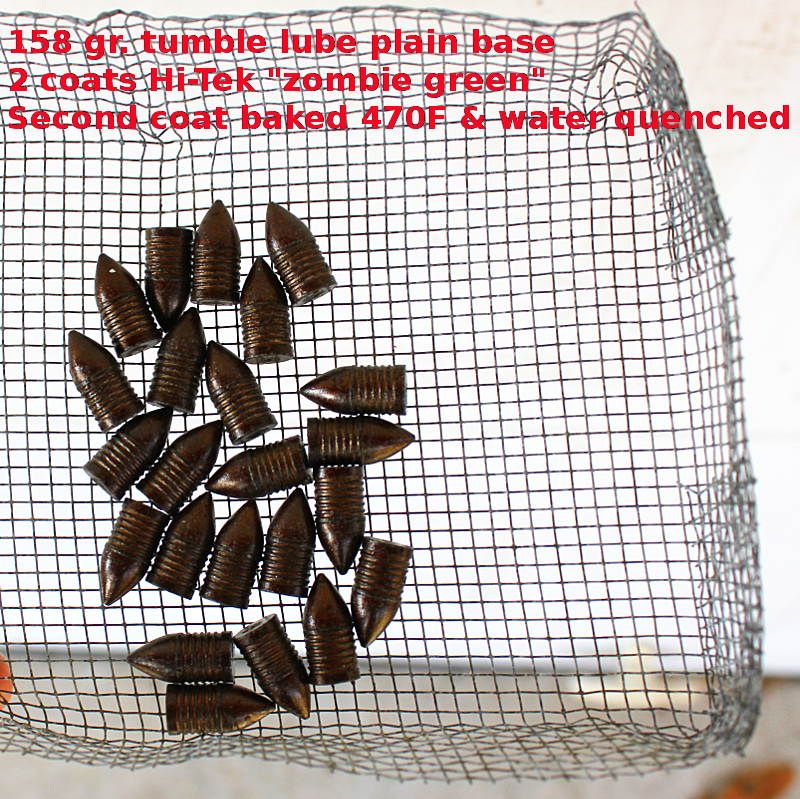 The bullets started out as sized to 0.360". After the first coat, they averaged 0.3607". After the 2nd coat, they averaged 0.3613". So they gain about 0.00065" per thin coat.
Questions about Hi-Tek Coating:
-- can it survive being heat treated?
-- do coated bullets benefit from heat treatment?
-- how much does it increase diameter? 0.00065" per thin coat.
-- do coated bullets benefit from a traditional bullet lube?
-- does Hi-Tek coating eliminate the melting and gas cutting at the base of the bullet?
-- are Hi-Tek bullets as accurate as traditional lubed bullets?
Yes, I realize there is tons of info on coatings at the Cast Boolits site, but unfortunately most of that info is poor quality and buried deep in chit-chat. Very few shooters do controlled accuracy testing with enough data to actually prove anything. Very few shooters push their cast bullets to the limit. As someone asked, "if coated bullets are so great, why aren't they winning benchrest matches?"
As time allows I'll try to determine if Hi-Tek coating is worthwhile for my flavor of shooting.