---
---
---
Site Admin
Posts: 1654
Joined: Fri Feb 01, 2008 5:45 pm
Location: Where the Salmon joins the Snake
All tin on except for ridge cap. Waiting on special roofing shoes for walking on the slippery metal roof.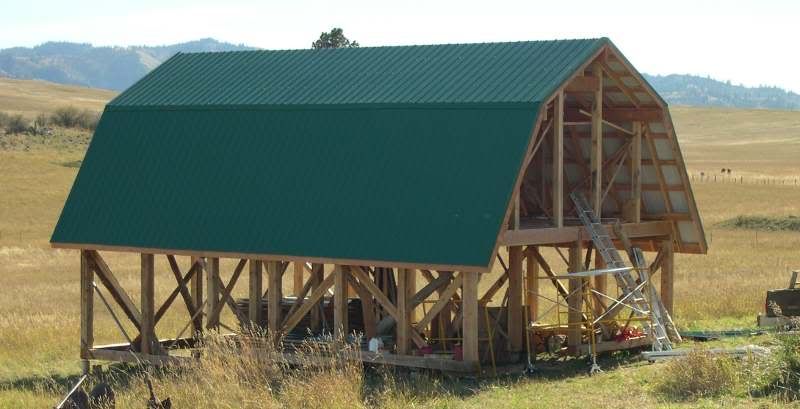 Next year the woodshed will get siding, permanent wind bracing to replace the temporary bracing, gutters, and if money permits, a cistern. Probably no more updates in the meantime.
---
mtngun wrote:... and if money permits, a cistern.
Are you planning on building this yourself? If so, it might be worth talking a bit to the people at Ames Research Laboratories (
http://www.amesresearch.com/
. They have a couple of videos on YouTube (
http://www.youtube.com/watch?v=FVUmh9uEer4
and
http://www.youtube.com/watch?v=i7F3C4MsQwE
) that led me to think that you might be able to build a pretty big cistern (several thousand gallons) out of concrete blocks, at least if it was below grade so the soil provided support for the walls. That might be easier than ferrocement, and possibly cheaper, though not coating/lining the inside of a ferrocement one saves a good bit of money.
---
Site Admin
Posts: 1654
Joined: Fri Feb 01, 2008 5:45 pm
Location: Where the Salmon joins the Snake
JWP, I was tentatively planning to buy a plastic underground cistern. They are expensive -- about $1 per gallon -- but easy to install and there's not much to go wrong

Ferrocement is out of the question up here. Don't think it is available, would be terribly expensive if it is.

I haven't studied a DIY concrete block cistern, but assume it needs a good concrete pad, so that alone would cost as much as a plastic cistern. Yes, everything costs more up here. I can haul up a plastic tank in the back of my pickup, but have to pay through the nose to bring in a concrete truck, and then they usually screw up the mix, anyway.
---
I was thinking of something around 2500-3000 gallon. Plastic ones of that capacity are pretty big - something like 4 x 8 x 12 feet and a thousand pounds or so. But if you're thinking of one you could haul in your pickup, then it's maybe 25% that size (at least that's as big as *I* would try to haul in a pickup). At that size, the plastic one probably wins, given the effort and cost of transporting stuff to your site, ease of plumbing, etc.

The Ames Research Laboratories "Blue Max" videos are pretty interesting in any case. Their test tank looks to be sitting on a concrete pad and seems to be about 40" x 48" x 30" interior dimensions, which would be around 250 gallons. Their other video shows a test concrete block building that's about 10 x 12 x 10 feet with a flat plywood roof. In both cases, they don't use any mortar, nor do they use any nails in the roof. Only the Blue Max coating is holding everything together (along with making it waterproof), which is the part that really interests me. I may actually have a use for this stuff.
---
---
I know it is moot now, but did you ever investigate the on line plans for a bandsaw mill using car tires for the wheels and a 4 cycle stationary engine?
Claimed it could be built from used parts for about $200, less than $600 with a new engine.
Either mounted at a home location or mounted on an implement trailer for portable use.
New band saw mills are available for less than $2000.
I built a 1400 sq. ft house in 5 month, by myself, with slab from tie mills and using a thickness planer and a table saw, of course, that was when I was in my 40's.
---
Site Admin
Posts: 1654
Joined: Fri Feb 01, 2008 5:45 pm
Location: Where the Salmon joins the Snake
Yes, I'd like to build a bandmill someday. It's not cheap, though. Metal alone will run over $1000. Bearings and hardware prolly another $1000. Engine could be a lot depending on whether you salvage a used engine or buy new.

But, I couldn't use a bandmill for this project for legal reasons. You have to haul logs to the bandmill. That means you have to have a legal source of logs, and heavy equipment to move the logs. I have neither.

A chainsaw mill can be carried to the log, rather than carrying the log to the mill. With a little discretion, It flies under the radar of government regulations, providing you have a firewood permit and don't break too many rules.
---