I debated the pros and cons of a septic system. A septic system would be nice, but they cost big bucks and must be pumped every few years.
Pit toilets have to be re-dug every couple of years, a difficult job in our hardpan clay. I am getting tired of re-digging the pit toilet.
I like the idea of a composting toilet, but that would require a fair amount of time and money to construct, and an outdoor composting toilet doesn't compost in the winter (which is 9 months out of the year). In addition, a composting toilet has to be elevated above the compost bins, so the toilet would require a little stairway. The stairway would have to be cleared of snow every day in the winter (9 months out of the year).
The septic system won the debate..
A neighbor offered the loan of his backhoe, saving me big bucks, because it costs a fortune to bring an excavation contractor up here.
The tank.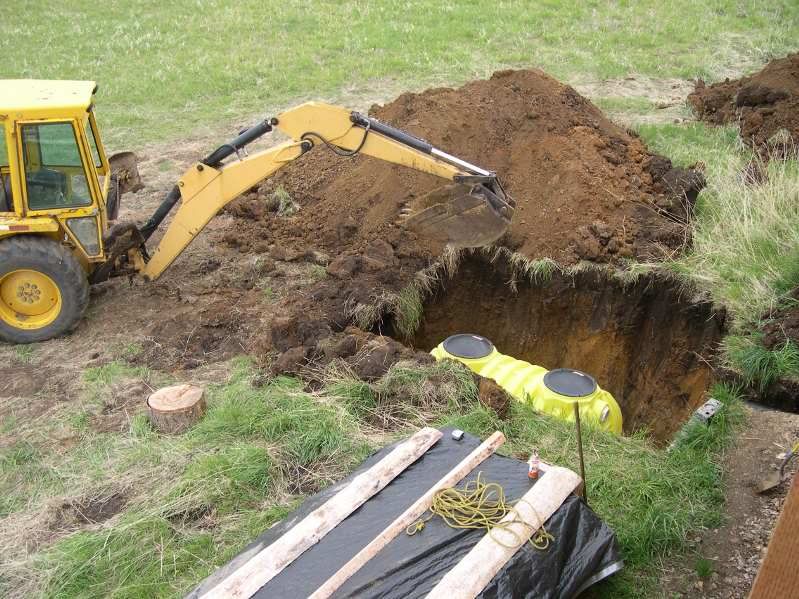 Even though my water usage is extremely limited, about 5 - 10 gallons per day, the local sewer god insisted that my septic system be designed to handle 200 gallons a day. I tried explaining how I must practice extreme water conservation since I don't have a well, but rules are rules. The overdesigned field should last forever.
Halfway done with the trenches. The septic field is on a hillside, so I tried to follow the contour of the hill. Easier said than done.