Hello,
I'd like to introduce myself.
I've 3 children and a wonderful wife of 15 years.
I'm from Michigan. I like to shoot, hunt, reload, cast and fish.
I've been using the Lyman 173gr cast bullets in my customized Marlin 30-30 and H&R for almost 2 years now.
I've two loads that I use for this round one for small game of which I have taken several tree rats and rabbits with and then a deer load which I took a 5 point with.
One of my current interests here is that I plan to purchase an H&R in 500 S&W and I would like help in designing a devastating hunting round for it. I'll admit at having no experience with mold design. I would like this bullet to perform at anywhere between 1100-1300fps, and be around 500gr (just because).
I've played around with the mold design and came up with this...
But I am not sure about the specifics of the lube grooves, or if it needs a GC.
WW are my preferred casting metal.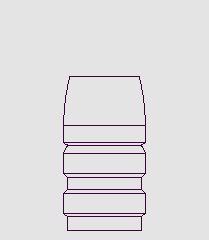 Hope to stay awhile and learn from you guys.
Sincerely,
Terry