Hello from Wales in the UK! Casting Virgin here.
I've been reloading for years but have never cast my own bullets. That's going to change soon but I have
no
kit yet. I've been reading past posts on this forum (and elsewhere) and I'm beginning to realise how much I don't know
I've been reading Lyman's Cast Bullet Handbook and making lists...
Initially, I want to cast bullets for my 45-70 Marlin 1895 Cowboy (2009 year of birth, JM stamped). I've been using bought cast 405gr bullets, trying to work out what it likes.
It shoots .462 (unsized) 405 gr bullets better than the otherwise identical .458 (sized) bullets from the same mold. What this tells me, I'm not sure. I had a go at slugging the bore (melted some lead in a metal pot and poured into the barrel, 2-3 inches from the muzzle.) The slug measured 0.4545 across the grooves/widest-point averages (which seems small, so maybe I did something wrong). I'd already tried the .462 bullet successfully, so was puzzled.
I'm trying to design a mold to produce a hunting bullet with a sectional density over 3 (so probably 455gr or so) and a large meplat of around .350" (approx. 75% of bullet diameter) that will feed and chamber in my Marlin. I don't know whether to go for a gas-check base or plain.
I was going to use the design posted on this forum here:
http://www.mountainmolds.com/phpBB3/vie ... p?f=7&t=74
...and increase the weight and as-cast diameter to suit. Something like this (but perhaps with longer bore ride length):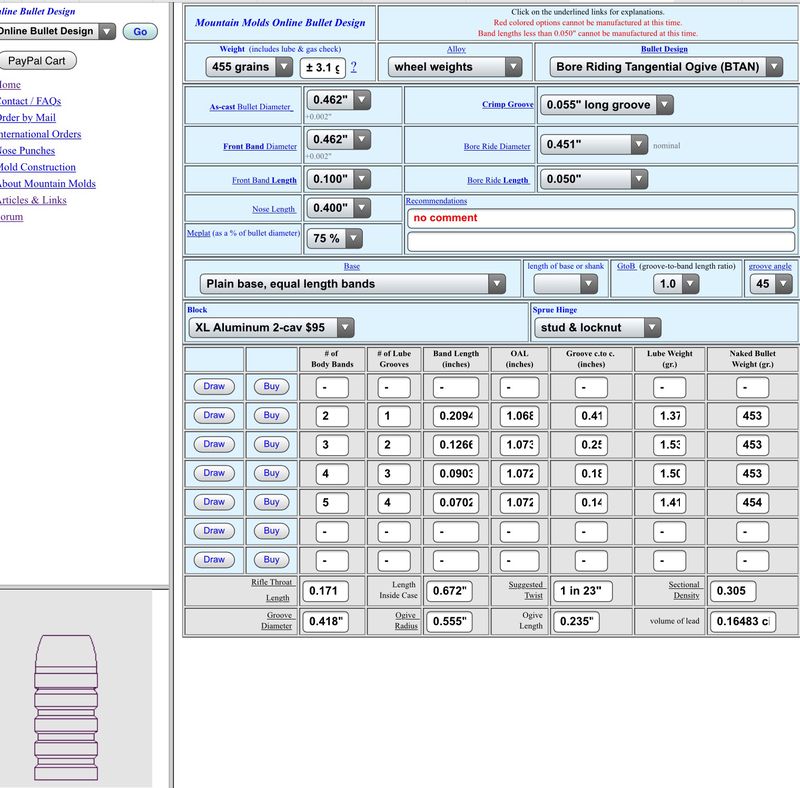 I chose .462 based on what the gun has shot so far, though by that argument, perhaps I should go for .463 and size down to .462?
I realise there is probably not enough data here for you to offer firm advice. If it makes a big difference, I will have a go at reverse-slugging or casting my chamber, though I'm a bit apprehensive about this.
Ultimately, I want to cast for my .45Colt and .357Mag Marlins and a long-range bullet for my .357Mag Ruger Super Redhawk (a friend made me some long, heavy bullets that shot really well at 100m in this unusual revolver.)
Any advice about kit and casting gratefully received (I'm leaning away from bottom-pouring lee pots for these heavy bullets, based on info found here.)
Thanks,
Ben